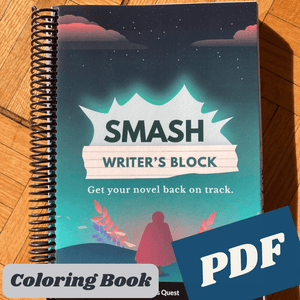 Smash Writer's Block Coloring Book - PDF Digital Download
Sale price Price $22.00 Regular price Unit price / per
Turn writer's block into better books.
This isn't your average set of writing prompts.
The questions are carefully designed by professional authors to force you to think deeper about your characters and world, to mine your subconscious, and uncover aspects of your story you missed.
The Smash Writer's Block coloring book features 175 prompts and graphics.
The images follow a lone scribe on a quest around the world and across the galaxy to find the answers they need to finish their book. Each page is a different stop on their journey.
The images vary in style and are not always connected to the prompts in order to encourage the divergent thinking that is essential to creativity.
Why a coloring book?
Creative breakthroughs often happen while your mind is preoccupied with a task that is simple and calming—that's why you have ideas when you're showering, walking, or driving.
Coloring fulfills that same role. It provides space for your subconscious mind to work through problems while your conscious mind is doing a task that doesn't require a lot of brain power.
Creativity involves combining different ideas, The images in this book vary in style and are not always connected to the prompts in order to encourage divergent thinking.
These prompts are specially designed to help you:
Think deeply about your characters, their motivations, needs, and psychology.

Discover new aspects of your fictional world to build page-turning plot points.

Spark new ideas with original prompts you won't find elsewhere.

Explore your story and characters in unexpected ways.

Uncover what your subconscious is trying to tell you about your story. Find what went wrong and ways to fix it.
Open to a random page, read the prompt, then start brainstorming and writing.
Note: The coloring book contains 175 of the same prompts as in the regular book version.
This version is a PDF available for instant download. You can print the coloring pages at home or use the prompts on your computer.
Don't want to print it yourself? Let us do it for you!
Not into coloring?
Smash Writer's Block is also available as a regular book.
Discount
Buy a print copy and get a PDF version for only $5 (that's 75% off).
You can mix and match the versions as well! Get a printed coloring book and a digital prompt book or vice versa.
Just add a print and digital PDF to your cart. The discount will be applied automatically at checkout.